FOR YOUR REFERENCE

UX/Product Designer: Dae Young Kim

UX/UI design | Product design | Research

A design of a news curation application for a consolidated daily experience of gathering art market information, and an information platform where industry-specific information can be easily shared between professionals.

Tools: Figma, Illustrator, Multiple RSS sources
Recently, there has been a strong rise in people's interest towards the global art industry as a collector, gallerist, or an art enthusiast. The members of the art industry must stay updated with relevant information on exhibitions, fairs, and prices of an artist's works, to keep up with fast paced market environment.
However, this process of constantly searching relevant information by painstakingly going through numerous sources or art news can often be tedious and inefficient.
Based on many art industry members' painpoint within often unorganized process of gathering relevant, up to date information, I designed a news curation app dedicated to simplifying the users' process of searching for relevant art news.
Identify visible and invisible user needs and provide design solution.




Research opportunity space through thorough user research.




Develop UX fundamentals within the platform for intuitive interaction for the service.
The user research process revealed the
Needs, Pain points,
and
Goals
of the three groups of people within the art industry. Then, their process of finding information was examined through interviews, diary studies, and think-aloud observation methods, which resulted into personas and user stories of the target audience.
Personas

Motivations

With what the user research revealed, a
comparative analysis
on art news platform precedents was conducted based on their
features and SWOT analysis
. Each art news source was examined with an emphasis on individual user groups' motivation.
Competitive Analysis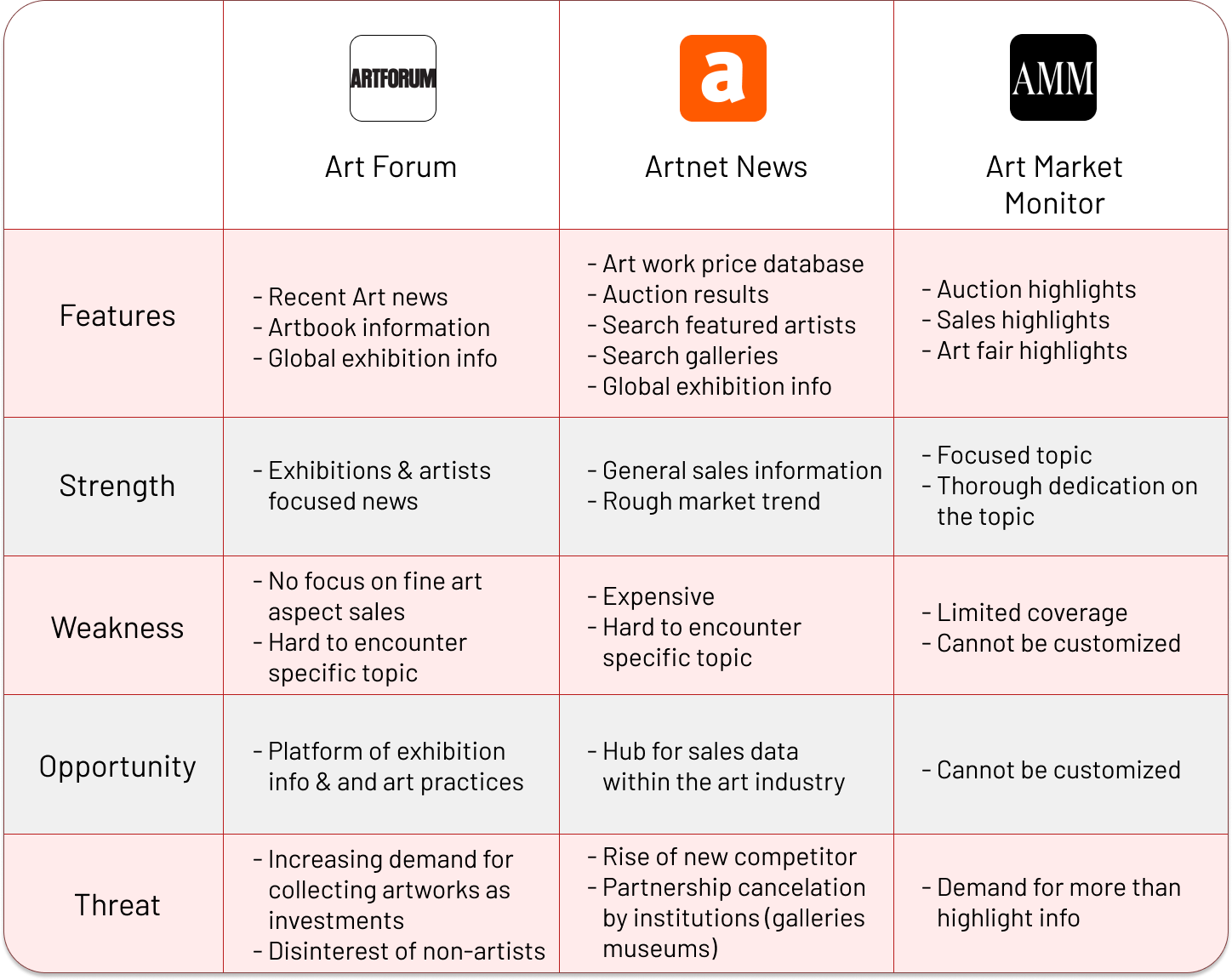 After the research process, I synthesized the findings into a design solution. Then I conceptualized the direction of the app's key functions and prioritized aspects of design in the scope of user friendliness.


Product direction

+
Prioritized design focus

Through researches and ideation, I made a user flow that consists four main features of "For Your Reference." The four features are:
Browsing through relevant art news information
Archiving interesting art news information and saving it in personal scrapbook page
Following and learning about what other professionals are focusing on
Setting personal preferences
Based on the user flow and the research insights, I first made a prototype in a form of a web service. The design process focused on building the information architecture, and creating the general look and feel of each function of the web service.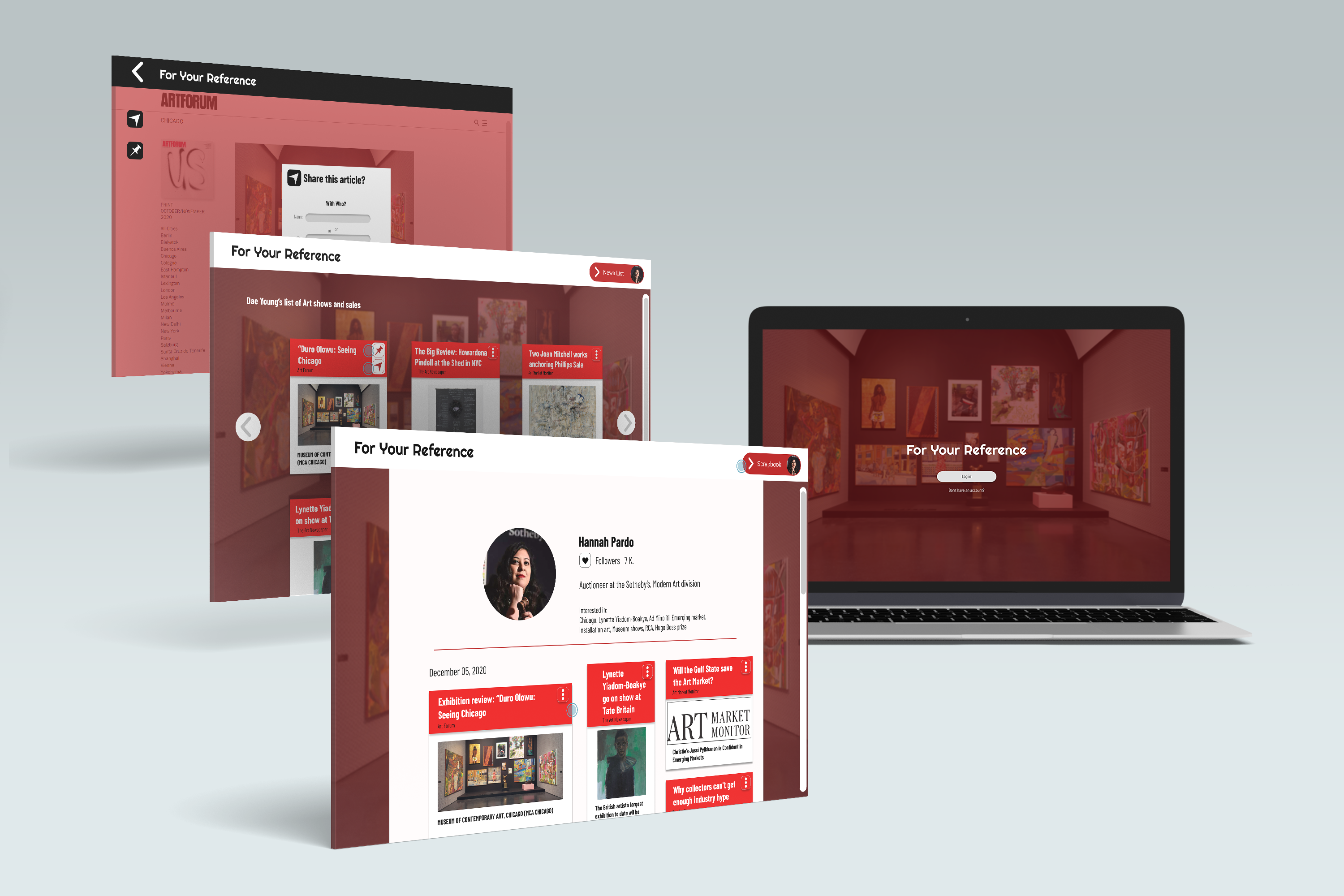 Then, I conducted a user test with the target audience through observation, interviews, and surveys to collect quantitative and qualitative data over potential users' attitudes and behaviors.


User Test outcomes

Web experience to Mobile experience
- Users do not necessarily access the service on desk top while they are sitting on a desk
- Users reside in a fast paced environment where they need a fast access to the information



Consolidated interaction (Straightforward information architecture & condensed interaction)
- In order to access as much information as possible, users need tighter user interface
- Extra steps of interaction slows users down which creates frustration when users deal with many articles
To translate the webservice into the mobile experience, I started with creating a rough sketch of how the mobile application for this service may look like.

After creating a low-fi prototype of the application, I made a wire frame to visualize the user's possible interactions based on the userflow.
A visual language was developed to deliver
organized, modern, and friendly
atmosphere to the users.
Organized: The app's visual design focused primarily on giving a sense of tidy and organized life experience to the users.
Modern: Colors and icons of the app seek to create a milieu that is elegant and classic yet not outdated for the various age groups within the users.
Friendly: While many news applications use authoritative visual languages to catch users' attention, "For Your Reference" seeks to approach users as their friend and a companion.
Based on the visual design system, high fidelity prototype was made. The design of the prototype focused on the user's easy navigation within the app based on their intuition.